Guitar Strap Shifter is a product for guitar strap's and it fit's on a guitar strap and quickly changes from low to high or high to low and it is the only product of it's kind.

    Many guitarist have there guitar strap set down in a lower position for rhythm and comfort and many famous lead guitarist have the guitar in a higher position to reach all the frets higher up on the neck for a great solo.

    You can now have both up or down in less than a second and the future is here for guitar players and any player new and getting better or a guitar player that know's there way around a fretboard. 

    The Guitar Strap Shifter is a patented product and 100% made in the USA.

​ 

   Make your strap in to the fastest adjusting guitar strap in the world! 

Less than one second up or down!

Guitar Strap Shifter's are what players have been needing for complicated leads and melodic chords that require a guitar in a higher position.  Being able to move the guitar around is simply amazing and easy to do!    

This product works with a 2 inch standard nylon locking guitar strap or a 2 inch nylon guitar strap with strap lock's. Free locking guitar strap will be shipped with every product and same locking straps are sold for around $20 at many music instrument retailers.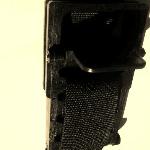 This product will work with electric guitars that are of average weight and size.  All products will have a free standard black premium locking guitar strap when shipped to every customer. The Guitar Strap Shifter has settings for different heights that may help reduce muscle fatigue in fingers, hand, and forearm with some players. We had a nice review in Guitar Player Magazine and there are many players out there now that use this product to perform at there best. 

 please click the PayPal link below.              Outside US please click below      

$49.95 + $5.00 shipping for USA         +$17.00 international shipping

Double click here to add text.

your html snippet
your htm l snippet